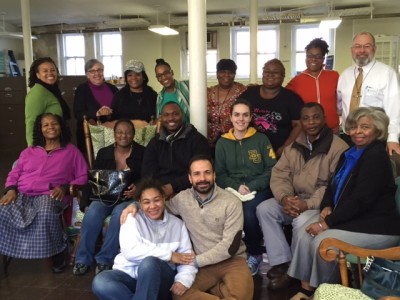 In the spring of 2012, Embrace Richmond began listening to the hopes and dreams of the residents of the historic Brookland Park community. As in all of our community building efforts, we knew that prayer would be the most important thing we could do together. It has been nearly 3 years and we are still praying!
In February 2015, we will be shifting from our current day time schedule to a new evening schedule to allow more of our friends and neighbors to join us.
Effective Thursday, February 5th, our gatherings will move to 7:00pm.  
We are also going to focus our prayer efforts in two specific ways – toward peace and justice.  
After three years of listening to our neighbors, we have discerned a strong desire to have a safe place to speak openly and honestly about race and the injustices that exist in our community along racial lines. Therefore we will continue to foster authentic and honest conversations about our shared struggle for greater racial equity.
In addition to praying for a more just society, we also have discerned a desire to become "persons of peace." Therefore, we will be praying for and seeking ways that we can foster peace and reconciliation in our own lives, our families and our community.
If you are looking for a place to connect with other Christians who desire to be peacemakers who speak truth into broken systems, we would love to have you join us!
We will continue to meet in the basement of All Souls Presbyterian Church at the corner of Miller and Overbrook Road (19 Overbrook Road, Richmond Va).  Please enter through the door just below the main stairway into the sanctuary, beside to the Embrace Richmond sign.
For more information, contact Wendy McCaig at wendy@embracerichmond.org.