Here are the shared dreams that came out of our summer Dream Catcher projects: 
North Central Neighborhood: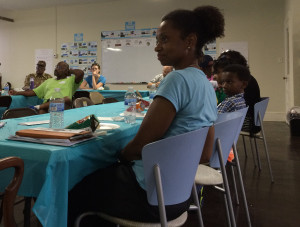 1. Healthier educational opportunities for junior high and high school students in the Northside area, starting with a listening project to discover what our students would do to improve their educational opportunities.
2. Micro-enterprise development to help fuel the revitalization of Brookland Park Blvd, starting with a young artist co-op that helps our youth turn their talents into a small micro-business that could potentially draw more residents to Brookland Park.
3. A continued desire for greater community unity including honest conversations about race in our rapidly gentrifying neighborhood, as well as an intentional block-by-block community building effort to help neighbors develop deeper connections with one another.
Broadwater Townhomes: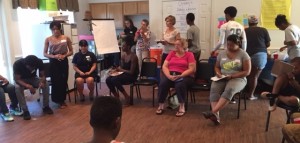 1. More family friendly activities that help neighbors build relationships, such as cookouts, a community garden, prayer team, parent support group, and play groups.
2. Improved recreational and fitness opportunities, such as a basketball court, better access to the weight room, a boxing club, teen-only swim times, an improved playground, and a lifeguard at the pool.
3. More opportunities for youth to excel, such as a robotics workshop and study groups.
Lincoln Mews / North Oak Apartments: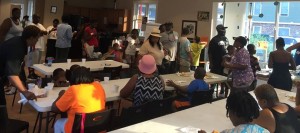 1. Improved relationships between residents through better conflict resolution and increased respect for one another and the neighborhood in general; starting with a row-by-row connecting strategy to help residents build stronger relationships with one another.
2. More community-wide events, such as cookouts, community conversations, and parent support groups.
3. More opportunities for the youth to engage in positive activities, such as an arts program and enterprise development with residents taking mentorship roles with young people.
Hillside Court:

1. Greater community unity with everyone looking out for one another, starting with a block-by-block connecting strategy to help neighbors build relationships with those closest to them.
2. Child safety through more parent involvement.
3. Reduction in gun violence by residents being more responsible for the behavior of guests.
Shady Hill Mobile Home Park: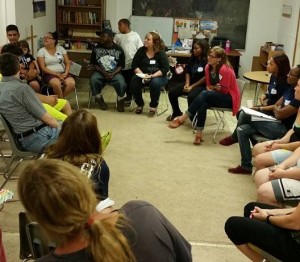 1. Neighborhood clean-up and beautification.
2. Community watch to reduce drug activity.
3. Building a community playground.
Over the next few months, Embrace Richmond will be seeing how these communities progress towards their shared dreams for their neighborhood.