When I began interning at Embrace Richmond in September, asset based community development was a new and terrifying concept for me. I was brand new to the world of social work and community development and had never used, let alone heard, this language before. It took almost an entire semester and several hours of research and training to understand what it means to do asset-based community development. The problem was, I understood ABCD intellectually, but I was having a difficult time envisioning what this model would look like "in the real world." I was overwhelmed with the magnitude of this work, and how one small organization could make the impact that Wendy envisioned.
This semester, I get to experience firsthand how a block-by-block approach to ABCD works in one Northside neighborhood. Tuesday night, I sat in the living room of one of our resident leaders and watched her passion and desire to see her dreams for her neighborhood come through as she spoke to more potential resident leaders.
Her name was Anita and she spoke from the depths of her heart as she explained the work she has accomplished over this past year to create numerous successful events that brought her neighborhood together. She spoke honestly about the struggles and the hurts that she faced as neighbors wrestled with her vision and even hosted gatherings to criticize her efforts.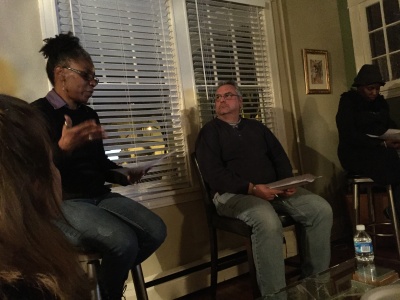 She started her work as a block connector by simply asking her neighbors what they thought would help make her block better. In the beginning, things were slow. At the first game night, one neighbor showed up, but Anita was determined to make it a success and spent all evening getting to know that one neighbor. Since then, she has built a strong core team and she and her team hosted six very successful porch parties, a harvest fest celebration and neighborhood decorations for the holidays along their street. She has also encouraged her neighbors to get involved in the civic association events and helped to strengthen that association.
One of the women at the meeting spoke of Anita's passion stating, "You cared enough about your neighborhood and neighbors to get involved…to get to know your neighbors and see past the differences." Another future leader stated, "I thought I was the only one who cared about my neighborhood, but I learned there were more people who cared."

Before my eyes, I was witnessing the success and value of ABCD work. Through the words of Anita and her neighbors, I saw a shared vision, a shared passion, and a shared determination. Anita had a vision of what her neighborhood could look like, and through perseverance, hurdles and good friends, she is starting to see her vision come to life. Anita is the definition of a great neighbor, and I am so excited to get to hear more of her journey, struggles, successes and joys over these next few months.
Getting to witness this meeting opened my eyes to the realities of ABCD work and the true magnitude that focusing on resident's assets and dreams can accomplish.
Written by our very own Intern, Kelli McNeal