In 2012, when Embrace Richmond began doing community building work in the Historic Brookland Park area, one of the top concerns we heard was, "I wish someone would get the young men to stop dealing drugs on the street corners."
Longtime Embrace Richmond resident leader, Rudy Green, shared this dream.  He had been one of those young men when he was younger and had lost much of his adult life to drugs, crime and incarceration.
One day Rudy approached a group of young men who were dealing drugs on the same corner at the same time that the High School bus dropped off the neighborhood youth.  Rudy asked the young men, "What is it going to take to get you off this corner?"  The young men answered him, "A job."
Rudy came back to our leadership team and shared the story.  He then proposed that we try to reach young people before they get to that point.  A few months later, Rudy started a mentoring group for young boys.  When we asked the boys if they could do anything to make their neighborhood better for young people what they would do, they said, "Provide a safe place to hang out and provide jobs so we can earn some money."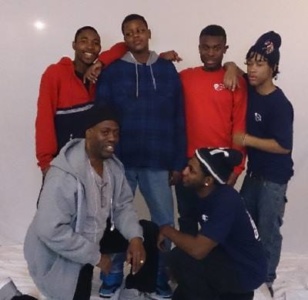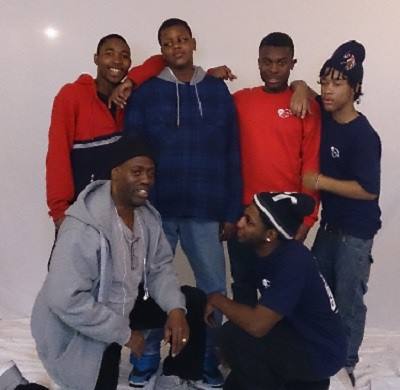 Over the next few years, Rudy meet with the boys weekly and our leadership team helped Rudy create small job opportunities for these young men.  They started a lawn care service, Embrace funded internships at local businesses, we encouraged our supporters to hire the young men for odd jobs.  However, none of these projects were consistent or sustainable with our limited staff capacity and the transportation challenges we faced.
So in 2014, we tried something new.   We began paying local youth to conduct the asset mapping surveys that are core to our Asset-Based Community Development approach.  We were astounded at how effective our first little team of "Dream Catchers" were.  Not only did they get a higher percentage of residents to participate in the surveys they also inspired more survey participants to engage in the actual community building efforts that followed.
In the summer of 2015, we wanted to see if this idea was scalable, so with the help of a wonderful intern from Union Presbyterian Seminary named Essie Reinke, we introduced summer Dream Catcher projects into six neighborhoods with similar outcomes. The other thing we saw in this expansion was an amazing transformation in the young people themselves.  Many entered the project skeptical about their neighbors and after having one on one conversations with adults, the young people began to believe that change was possible if people were more connected.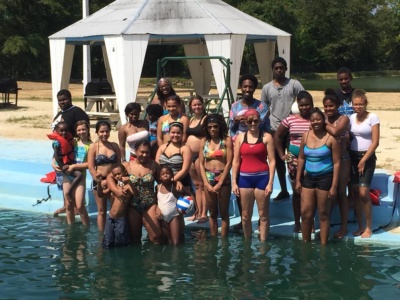 Then something unexpected happened.  In Broadwater, we discovered that young people were not only capable of doing the asset mapping, they were actual catalyst for the actual community building efforts.
While the experiment in Broadwater was a success, it was not without some challenges. We quickly realized that to support a year-long youth development effort we would need far greater adult support.
We knew the support would need to come both from inside the neighborhood as well as from the outside.  Below is a summary of the support system that is built into our new year-long Young Leaders Program design:
A committed Young Leaders Club coordinator who will facilitate the weekly Young Leaders Clubs. This includes team building activities, monitoring the teams progress, teaching the team leadership skills and helping the team learn from their community building experiences.  The ideal scenario for us would be to partner with a local youth group that is geographically oriented.  We were successful in the Broadwater Townhomes neighborhood in partnering with the YMCA.  However, we currently have no such partner in the other 9 neighborhoods where we would like to launch this project.  In the other pilot in the Brookland Park area, Rudy Green is our adult coordinator with the support of Embrace Richmond staff.
A strong support system within the neighborhood made up of local residents who support the community development efforts of the youth. Our pilot projects have two levels of resident support, the Youth Connector who is an older youth who acts as a "mentor" or "big brother/sister" to the younger youth.  In addition, each of the youth is partnered with an adult block connector who will accompany them in their asset mapping visits.  These adults help insure the youth are safe and help the youth process what they are hearing in the interviews.  The block connectors also become the primary link back to the residents who participate in the survey process.
A strong support system linking the neighborhood level efforts to outside institutional supporters. This is generally done through an Area Collective where the youth leaders, block connectors, and leaders from local civic associations gather with institutional partners who desire to support the development effort such as faith communities, non-profits and governmental agencies.  This final piece of the support system helps the residents advance their agenda for community-wide change and unites all the assets together around a shared vision.
As you can imagine, this expansion to a year round, multi-tiered support system is a time consuming and slow process.  This past May, Embrace Richmond hired Leroy Jefferson, who grew up in the Brookland Park Area and personally shares the dream of bringing back the village.  Leroy is implementing this strategy in two pilot communities – Broadwater Townhomes and The Historic Brookland Park area.  Our challenge goal is to eventually develop this structure in all ten of the communities where Embrace has been partnering in ABCD efforts.
For us to make this dream a reality, we need your help.  During our Young Heroes Campaign, we will be highlighting some of the key people, both young and old, who have already joined this effort.  We hope you will prayerfully consider adding your support to this neighboring revolution that is transforming neighborhoods across Metro-Richmond from the inside out!
Please consider donating on-line here, or via mail at this address.