Support a community in metro Richmond today!
---
My name is Leroy Jefferson and I am the Executive Director of the Historic Brookland Park Collective. Three years ago, in 2014, I returned to Richmond, Virginia to the home I grew up in as a child.   As I walked and talked the neighborhood, I heard that many seniors felt forgotten and isolated. My wife, Angela, and I soon met Anita. She had resided in the area for 12 years and witnessed crime, drug dealing, prostitution and assault. This was surprising to me since when I moved away, the neighborhood was vibrant.  
Not long after, my wife and I decided to attend our first civic association meeting. Not many people were present.  Most in attendance were longer-term residents who had seen Brookland Park at its best. They were looking for a new group to jump in and steer the ship.  But did they know how to effect change? Did they understand the history of the neighborhood enough to be effective?  I wanted to help bridge this generational gap. 
Anita told me she had starting working with Wendy McCaig, who ran a non-profit called Embrace Richmond. She said Embrace Richmond had concepts and solutions for boosting engagement that could help Brookland Park. Embrace Richmond emphasized that being community conscious and getting others to be engaged, are two very different things.  Wendy suggested that a blend of residents and relationships – old and new – would make everyone feel valued and interested in starting a #Neighboring Revolution.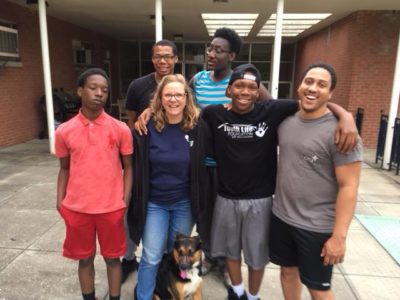 Anita chose Angela, my wife, and Sara Williamson, a newer resident, to try organizing residents as "Co Block-Connectors". The plan was for Angela to reach the long-term and established neighbors and for Sara to reach the newer residents.  Angela and Sara hit it off wonderfully. Their genuine adoration and appreciation for one another was compelling. They were a true team committed to engaging all people, all races, all creeds, all genders and all political persuasions. Such relationships were at the root of the Embrace Richmond model for developing interconnectivity and increasing neighborhood engagement. 
We carried our collective enthusiasm to Hawthorne Avenue where we met Michael Lease and Norman Washington; one long-term resident and one new resident. We went on to Montrose Avenue, where we met Trayce Morris and Kelly Lorish, and then on to Fendall Avenue where we met Larry Williford and Eric Axelson. This pairing formula worked well as we continued our mission of uniting the Brookland Park area. In each of these cases, it just so happened that one Block Connector was black and the other one was white.  I can't help but think of the song lyrics Stevie Wonder and Paul McCartney wrote, "Ebony and Ivory living together in perfect harmony." We could feel that positive changes were possible in the community.   
You see, the core principle to engaging residents in community actions and activities is to determine what their interests, desires and passions are. Embrace Richmond coached us on how to recruit Block Connectors, map out the gifts of our neighbors and the assets of our neighborhood and start resident-led Action Teams.  We now have a Seniors Team, a Community Garden, a Music Team, a Food Co-op, a Clothes Closet and work along with RVA Clean Sweep under the banner of the Historic Brookland Park Collective.  These teams are fully resident led and with your help the Collective will be able to start an Athletic/Running Team, a Cooking Team, and more for the community.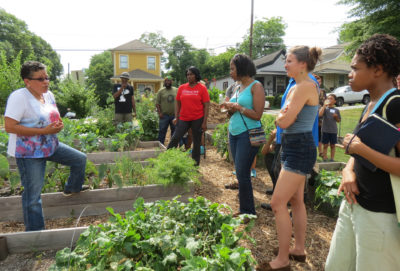 I believe that when people rally around a common interest, they are more motivated to know one another and less likely to be involved in crime.  When you begin to appreciate the gifts and talents of your neighbors, you become inclined to support and protect them.  This attitude becomes the nature of a village — where everyone succeeds together.  My vision for 2018 is to reach more residents through the Historic Brookland Park Collective and impact the community in a bigger way.  With your help, the #Neighboring Revolution will continue changing lives and helping people against the odds.  
---
My name is Kevin Starlings. I have been a resident of Richmond for over 30 years and grew up in the Brookland Park area. As a father, business owner, music educator and community organizer, I am devoted to restoring democracy at the grassroots level and energizing citizens to become more active in their communities. I want to share a story with you today about the incredible creativity in Historic Brookland Park area and how Embrace Richmond's asset-based community development (ABCD) model created a gateway for me to lead in my community using personal strengths, gifts and goals.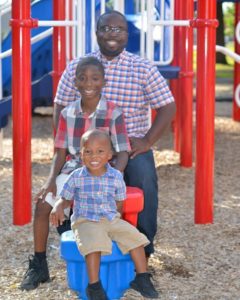 The Historic Brookland Park area in Northside RVA is musically gifted. Embrace Richmond revealed this through resident led surveys/listening projects. This gift is shared by both youth and older adults. In the fall of 2016, Embrace Richmond sponsored a project known as the Brookland Park Collective. This effort connected individuals with shared passions and I ended up being a part of the community Music Team.  
I had a knack for music when I was kid and carried that into adulthood. For the past 13 years, I volunteered with the John Marshall High School marching band. And over time, I observed that fewer youth participated in school sponsored Fine Arts programs because of budgetary impacts and changes in youth culture. I grew close to many of these youth and wanted them to be able to leverage their creative gifts. 
Over the course of the year, I developed an advisory team of residents from Historic Brookland Park who wanted to invest in the future of our neighborhoods. I began to see how my love for music, event planning experience, and passion for empowering youth could be combined to strengthen the entire community. I began to understand the investment and purpose Embrace Richmond has within the community, and wondered what it would be like to not only work with Embrace but become a part of their movement. I wanted to become a foundation for positive change in Richmond and connect with the many others who share the same dream.  
Fueling this #Neighboring Revolution and leading the Brookland Park Young Leaders program and the Music Team has evolved into my full-time job. I began with Embrace as the Youth Program Director and then moved on to become the Social Innovation Manager. In 2017, we were able to engage 27 youth in community building activities and provide 11 paid youth internships.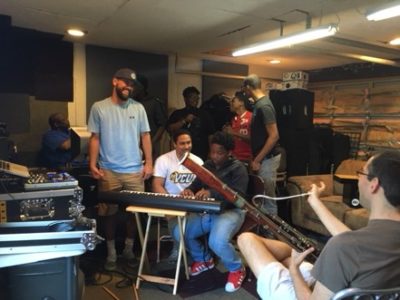 The ultimate goal of Embrace Richmond as an ABCD organization is to enable a community to strengthen itself – to standalone over time. And I have a special announcement for you – the time for that transition of ownership has come. As of December 1, 2017, I am now the Executive Director of a new initiative called Ignite Richmond. Ignite was specifically created to provide a permanent home-place for Embrace's current Brookland Park youth initiatives like the Young Leaders Program and Unsung Heroes Project but also to expand upon the role of creativity and the arts in addressing the needs, assets and development of our youth. I do what I do out of a love for my community and am thankful for the support of the Embrace Richmond Team. I am also thankful for Culture Works RVA awarding us a grant that will bring the stories of the Brookland Park Community to life through the performing arts.  
I do believe that our youth are the foundation of a stronger more resilient community. And with your assistance we can continue to offer our youth year-round opportunities to engage in the arts and lead change efforts in their community. 
A portion of your donation to this campaign will help us get Ignite Richmond off the ground by creating more internship opportunities and providing support to launch a year-long music, special events and drama action teams. 
Please consider supporting our efforts as we strive to Creatively Make A Difference in the hearts, minds and souls of our RVA Youth by making the possible, possible. 
"It is Better to Light a Candle Than to Curse the Darkness"- Ethel Thompson Overby 
To learn more about the Brookland Park Young Leaders program, click here.  
To learn more about the Unsung Heroes Project, click here.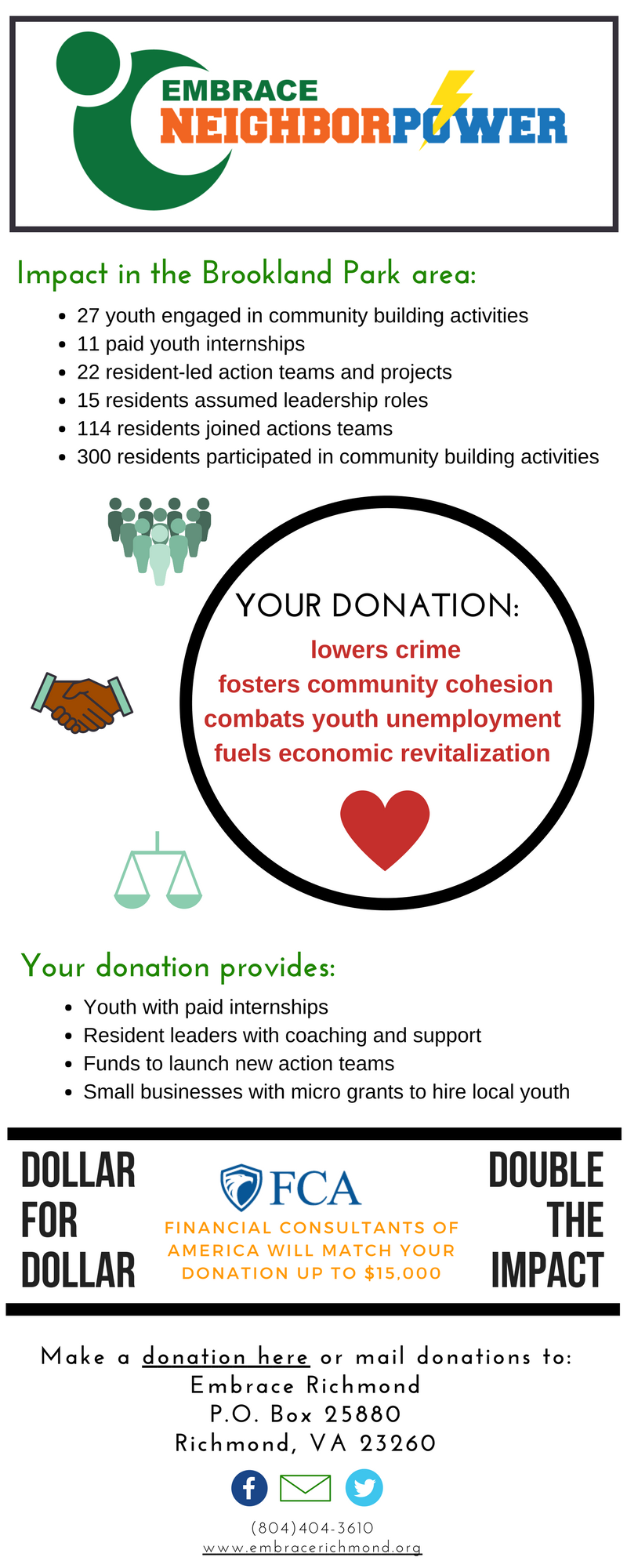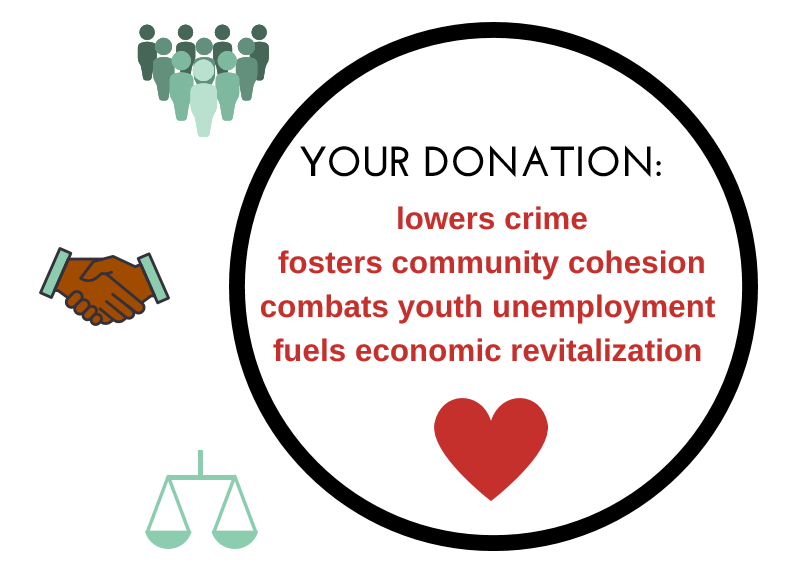 For those of you who don't know us, we are an Asset-Based Community Development (ABCD) organization that trains, coaches and financially supports youth and adult leaders working to bring about positive changes in their neighborhoods. During the upcoming...