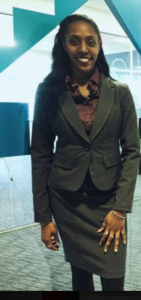 Embrace welcomes Jackie Washington with open arms! As a recent master's degree holder from Virginia Commonwealth University's School of Social Work Advanced Standing program, Jackie brings a refreshing perspective to our work.  For the past 5 years, Jackie has been working at the intersection of families, communities and development in areas of revitalization, social justice and collective trauma. She understands Richmond's history and is informed by the cultural fabric of this city. In fact, she sees this fabric as Richmond's greatest asset. Most importantly, she practices social work from a strengths based approach.  This aligns well with Embrace's asset-based community development work.
Jackie wants to empower residents to lead themselves. To do so, she will be developing our Young Leaders program. She hopes to incorporate innovative ways to engage young people that will excite them to lead their communities. She hopes to assist them by sharing her knowledge about leadership, community trust building and organizing.
Jackie will also assist with Embrace's sustainability through fund development and communications.  She is open to meeting other community leaders that will aid in furthering Embrace's mission. Contact her at jackie@embracerichmond.org.