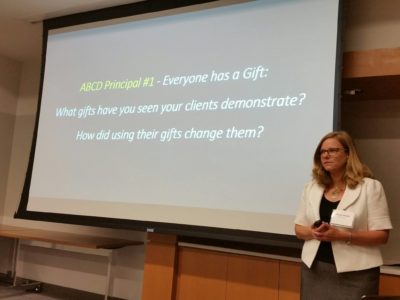 On May 23rd, Wendy McCaig facilitated the second session of Mission Shift Training with more than 70 individual lay and pastoral leaders.  This training was hosted by the Staunton District of the United Methodist Church and churches came from across the region.  This training was unique because of the number of congregational leaders seeking to implement asset-based principles in a rural context.  This is important because according to the Wall Street Journal, rural counties rank the worst compared to medium or small metro areas, big cities and suburbs in regard to measures of socioeconomic well being.  In the past, the worst rankings were found in urban areas.
There was a wonderful energy to this group as they shared ideas on how to contextualize the Asset-based Community Development model.  It was exciting to see them tailor the principles to their community. They gave examples of how their various churches were building stronger communities through their various missions efforts.  This collaborative conversation was the highlight of the training for many. Below are a few quotes from the participants in this training:
"I am hopeful. These aren't just concepts…they are proven!"

"I realize that ministry is not just about "giving" but about relationship."

"The tools I learned today were most rewarding!"

If you are interested in receiving or learning more about ABCD visit here or email Wendy at wendy@embracerichmond.org.
 Ademy, J., Overberg, P. (2017, May 26).Rural America Is the New "Inner City". Wall Street Journal. Retrieved from
https://www.wsj.com/articles/rural-america-is-the-new-inner-city-1495817008