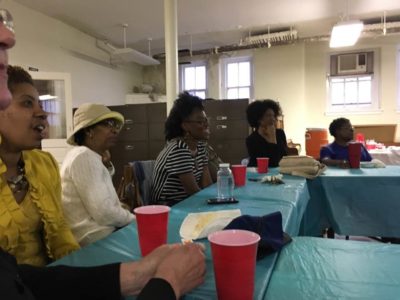 Have you ever met neighbors that are willing to meet frequently, engage in monthly activities and prepare close to gourmet style, home made dinners for their evening meetings? We have. We've witnessed  sincere community work evidenced in the way the Brookland Park Collective members participate, laugh and discuss with each other. The atmosphere formed from block clubs and action teams feels light and nurturing.
In late May, this group gathered together once again at All Souls Presbyterian Church to touch base about the exciting happenings in Brookland Park. Leroy, our strategic implementation manager, worked to facilitate conversation about next steps for each action team. The music action team(stay tuned!) was able to nail down times that they would practice. Resident led events were recapped and new neighbors shared their testimony of feeling included. One couple shared that they planned to take an evening stroll but did not end up completing it because they stopped to say hello to a neighbor and ended up chatting for hours.
These are just some of the outcomes that community bonding can bring. The Brookland Park Collective meets every other month from 6:00-8:00 pm. If you live in the Brookland Park area and are interested in joining the collective or want to engage with a block club on your street contact Leroy Jefferson at leroy@embracerichmond.org.