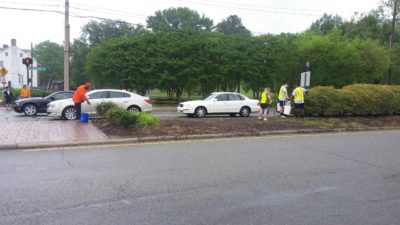 Monthly, residents of Brookland Park take pride in their community by cleaning up public spaces. In May, Embrace Richmond engaged in the RVA Clean Sweep partnering with  Minister V, the founder of Youth Ministry Entertainment (Y-Me), the Battery Park Civic Association and the North Central Civic Association.
Community clean ups not only beautify the area but build community relationships increasing social trust and social capital. These are important outcomes of Embrace's work towards building communities based on resident assets.
If you are interested in joining in this community building event join us on Saturday, June 17th from 10:00- 11:30 am. The group will meet at the Battery Park Community Center located at 2803 Dupont Circle, Richmond, VA 23222.
Please remember to wear clothes toe shoes and bring a bottle of water!