The Great Neighbor Award Goes to….
Ellen Avila!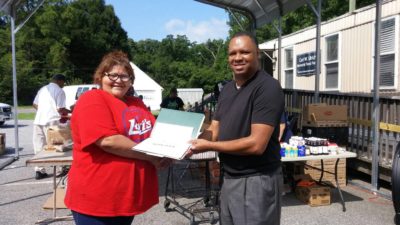 Written by Pam Hersnir
It is winter and it is cold.  A homeless man stands on the side of the road on the south side of Richmond. He has no coat. Ellen, the director of Belmont Methodist Church's (BMC) clothing closet drives by and notices the man is shivering.  Instead of going home, Ellen stops by the clothing closet, grabs a warm coat and takes it to the man.
A man who just got custody of his two grandchildren (18 months and two years old) stops by the clothing closet.  He tells Ellen he has no idea what to get the children.  Ellen gets a bag and finds what necessary items two children would need.  She then tells him to come back the following week and she will have another bag ready for him.
A woman whose mother just died asked Ellen to help her clean out her mother's house.  Ellen goes to the house and helps the woman with the difficult task of going through her mother's belongings.  The woman then donates the remainder of her mother's items to the clothing closet.
Ellen notices while working at the clothing closet that children rarely get to pick an item for themselves.  Starting in August, Ellen begins to collect and set aside toys that were donated.  In December, Ellen sets up a table with over 200 toys.  The table is for children only.  Children coming to the clothing closet were so excited that they were able to pick  toys for themselves.
Most of the time, there are plenty of donations for the BMC clothing closet.  However, there was one particularly dry spell.  With several hundred people going through the clothing closet weekly, Ellen felt she needed to find some donations.  She took her truck to some local thrift stores and asked for what they were going to throw out.  After the end of the next clothing closet opening, all the clothes Ellen had collected were gone.
While shopping at Walgreens one day, someone says to Ellen "Aren't you the clothing closet lady?"  Ellen nods yes and smiles. Ellen is known to the community around BMC as the "clothing closet lady".
As the "clothing closet lady," Ellen is a mentor and friend to the community surrounding BMC.  Ellen doesn't see her role with the clothing closet as simply sorting and handing out clothes.  Her work with the clothing closet isn't busy work but people work.  Ellen has a passion for serving and connecting with people because she knows what it is like to need help.
Ellen moved to Richmond from Houston, Texas two years ago.  She came to Richmond because she wanted to see her two sons and seven grandchildren whom she had not seen in ten years.  In addition, Ellen wanted to change her life from the one she had been living in Houston.
Ellen was born into a family and environment where, as a child, she had no choice.  The only life she knew was one of anger, viciousness, and revenge.  Most of her life was spent living in this manner – in jail thirteen times and a certificate that declared Ellen a "menace to society" by the Texas court system. Ellen said she used that certificate as a trophy.  The certificate gave her permission to continue to live the life of a "menace".  Ellen said this life of drugs, money, and anger began to wear her down.  She knew that if she didn't make a change, she may die before she ever saw her seven grandchildren again.  Ellen decided to move to Richmond.
Making the transition to Richmond was challenging for Ellen and she got back into drugs.  This time, however, she got into a two year recovery program that treated the whole person.  Though Ellen stumbled, she was committed to getting clean.  The recovery program required community service and she chose the clothing closet at BMC. Ellen began community service at the clothing closet as a mandatory requirement, but her service became one of her roads to recovery and future ministry.
Joanne, who ran the clothing closet, also graduated from the same recovery program Ellen was in.  Joanne became a mentor and friend to Ellen.  Ellen was also mentored Billy the director of the Food ministry, and Marie, the lay director of BMC.  Ellen found herself in a community that gave her "power and respect to be a better person".
It wasn't just mentors that helped Ellen on the road to recovery.  Ellen credits the several hundred people that go through the clothing closet each week for the gift of acceptance and love.  Ellen comments, "They treat me with respect.  They don't know where I came from.  They treat me as someone else – my new self.  And I can leave the past behind".
Ellen now mentors two people who are also serving in the clothing closet.  She is also a mentor, friend, and encourager to so many people in her community.  Ellen is passionate about serving and reaching people who are going through tough times because of her past struggles with addiction, abuse, and homelessness.  She comments  "If I can come out of that (the past) and forgive, so can others.  I've learned to lay them (memories) to rest – because those memories keep me sick – keep me in the past – don't let me love, show compassion and live life.  I want them to know to do the next right thing, because then, the next right thing will come"
"Doing the next right thing" is the reason Ellen received emergency joint custody of her grandchildren. When Ellen went to court, she was not optimistic due to her past addiction and "menace certificate".  Ellen sat stunned when the judge said "I don't want to know about her past.  I want to know what she is doing now!"
Ellen graduated from the recovery program August 8th, 2017 – a strong, clean, determined grandmother.  Ellen is determined to make a difference in her neighborhood so that everyone can experience "power and respect to be better (people)."