---
My name is Kevin Starlings. I have been a resident of Richmond for over 30 years and grew up in the Brookland Park area. As a father, business owner, music educator and community organizer, I am devoted to restoring democracy at the grassroots level and energizing citizens to become more active in their communities. I want to share a story with you today about the incredible creativity in Historic Brookland Park area and how Embrace Richmond's asset-based community development (ABCD) model created a gateway for me to lead in my community using personal strengths, gifts and goals.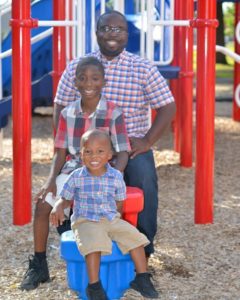 The Historic Brookland Park area in Northside RVA is musically gifted. Embrace Richmond revealed this through resident led surveys/listening projects. This gift is shared by both youth and older adults. In the fall of 2016, Embrace Richmond sponsored a project known as the Brookland Park Collective. This effort connected individuals with shared passions and I ended up being a part of the community Music Team.  
I had a knack for music when I was kid and carried that into adulthood. For the past 13 years, I volunteered with the John Marshall High School marching band. And over time, I observed that fewer youth participated in school sponsored Fine Arts programs because of budgetary impacts and changes in youth culture. I grew close to many of these youth and wanted them to be able to leverage their creative gifts. 
Over the course of the year, I developed an advisory team of residents from Historic Brookland Park who wanted to invest in the future of our neighborhoods. I began to see how my love for music, event planning experience, and passion for empowering youth could be combined to strengthen the entire community. I began to understand the investment and purpose Embrace Richmond has within the community, and wondered what it would be like to not only work with Embrace but become a part of their movement. I wanted to become a foundation for positive change in Richmond and connect with the many others who share the same dream.  
Fueling this #Neighboring Revolution and leading the Brookland Park Young Leaders program and the Music Team has evolved into my full-time job. I began with Embrace as the Youth Program Director and then moved on to become the Social Innovation Manager. In 2017, we were able to engage 27 youth in community building activities and provide 11 paid youth internships.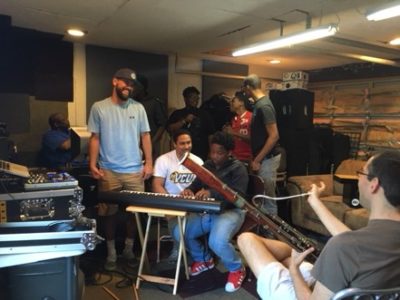 The ultimate goal of Embrace Richmond as an ABCD organization is to enable a community to strengthen itself – to standalone over time. And I have a special announcement for you – the time for that transition of ownership has come. As of December 1, 2017, I am now the Executive Director of a new initiative called Ignite Richmond. Ignite was specifically created to provide a permanent home-place for Embrace's current Brookland Park youth initiatives like the Young Leaders Program and Unsung Heroes Project but also to expand upon the role of creativity and the arts in addressing the needs, assets and development of our youth. I do what I do out of a love for my community and am thankful for the support of the Embrace Richmond Team. I am also thankful for Culture Works RVA awarding us a grant that will bring the stories of the Brookland Park Community to life through the performing arts.  
I do believe that our youth are the foundation of a stronger more resilient community. And with your assistance we can continue to offer our youth year-round opportunities to engage in the arts and lead change efforts in their community. 
A portion of your donation to this campaign will help us get Ignite Richmond off the ground by creating more internship opportunities and providing support to launch a year-long music, special events and drama action teams. 
Please consider supporting our efforts as we strive to Creatively Make A Difference in the hearts, minds and souls of our RVA Youth by making the possible, possible. 
"It is Better to Light a Candle Than to Curse the Darkness"- Ethel Thompson Overby 
To learn more about the Brookland Park Young Leaders program, click here.  
To learn more about the Unsung Heroes Project, click here.