Before I share where we are going in 2018, I want to give you a brief history of Embrace Richmond's ABCD organizing efforts to date.
2005 – 2009   Embrace Richmond worked with formerly homeless individuals to start a number of initiatives that were developed and led by formerly homeless individuals. The best known effort was the Furniture Bank which was transferred to CARITAS in 2008 when Embrace made the shift to community development.
2009-2013  Embrace Richmond worked with residents of Hillside Court to help launch 9 resident-designed community strengthening efforts with the best known being resident-led youth sports programs.  This effort was transferred to resident leaders who formed the Hillside Court Partnership(HCP) under the direction of resident leader, Patrice Shelton (pictured below).  HCP continues to promote resident leadership and youth development in Hillside Court.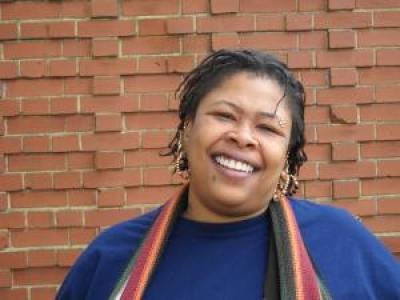 .
2013-2017  Embrace Richmond worked with residents of the Historic Brookland Park community to help launch more than 20 resident-led initiatives and projects with the best known being the Block Connector and Young Leaders Projects.  At the end of 2017, we transferred ownership of these initiatives and projects to residents who are a part of the Historic Brookland Park Collective (adult organizing efforts) under the direction of resident leader, Leroy Jefferson, and Ignite Richmond (youth organizing efforts) under the direction of resident leader, Kevin Starlings (pictured below).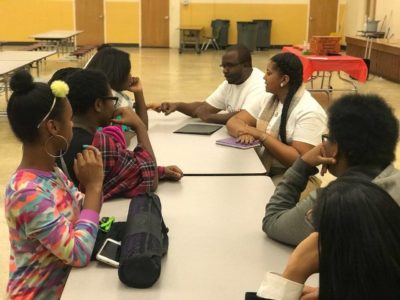 Each one of these organizing efforts had one goal – to develop the grassroots leadership capacities of residents and then lead by stepping back.
In 2015, Embrace Richmond began coaching and training community and congregational leaders in how to implement this kind of inside-out, asset-based community development strategy in neighborhoods across Greater Richmond.  We did a lot of ABCD trainings in 2015 and into 2016. We discovered that development efforts did not achieve the goals desired by the community unless we hired grassroots organizers from the "neighborhoods under development" to consistently apply Asset-Based Community Development (ABCD) principles, the way we did in the three examples above.  Our community-based partners in these early intermediary efforts were largely congregations, most of whom lacked the resources to hire resident leaders.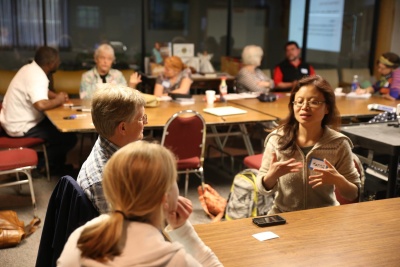 During 2017, our focus was on developing a strategy that would insure adequate investment in the coaching, training and financial support of resident leaders as they would ultimately own the development efforts launched by our institutional partners.  With the help of Nancy Trego from Third Sector Solutions, we were successful in clearly defining the outcomes of our "Inside Out Community Strengthening Process" and building a case statement to support ABCD efforts.  As a result, we raised more than $50,000 in grant funds which has allowed us to make significant investments in local adult and youth leaders.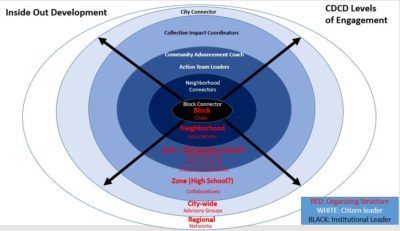 In 2018, our focus will be on identifying and partnering with organizations including non-profits, universities, congregations and governmental agencies who are committed to an ABCD approach and increasing support to resident leaders. Rather than Embrace Richmond being the organizer on the ground, the way we were in Hillside and Brookland Park, our focus will be on coaching, training, financially supporting and connecting ABCD efforts across the city.
We will explore how the "Inside Out Community Strengthening Process" we developed in Hillside and Brookland Park can be used to:
Help congregations shift toward community development approaches in their local mission efforts thus increasing the long-term impact of their investments. (Embrace has been doing this since 2014 through our Mission Shift training and coaching efforts).

We will expand this effort in 2018 beginning on January 11th with a free training hosted by Woodlake UMC.
In February 2018, we will launch a monthly ABCD overview training for organizational leaders who are interested in learning more about ABCD.
We will continue supporting church based ABCD efforts through a learning cohort with local pastors who have committed to coaching in ABCD.
We will be implementing a new online training platform to make ABCD training material available to our coaching clients.
We are thankful to the Richmond District of the United Methodist Church for their support which has made the expansion of our church-based ABCD effort possible.
Work with neighborhood focused organizations to improve the health and well-being of communities specifically as it relates to increasing community resilience. Through our own experience and national research findings, the key factors influencing community resilience are local leadership, attachment to place, social efficacy, social trust and a shared vision for the future. All of these factors are increased through our "Inside Out Community Strengthening Process."  Our goal in the coming year is to work with a broad base of stakeholders (Universities, Heath Providers, Community-Based Organizations, Arts and Culture Organizations and Civic Associations) to discern how our process can support the work of these other institutions.

Improving community health and well-being is at the heart of the "Neighborhood Empowerment Collaborative" which is the combined effort of VCU Wilder School, the VCU Center on Society and Health, The City of Richmond, Engaging Richmond, and Embrace Richmond. We will continue to engage in the collaborative and hope to develop a long-term partnership with each of these entities. This collaboration was made possible by funding from Virginia Commonwealth University.
We are particularly interested in the role story and an appreciation for history and culture play in increasing attachment to place and promoting a sense of belonging and pride in a community. the objective of our Unsung Heroes project is to employ storytelling as a community building tool.  We are thankful for CultureWorks and the Virginia Foundation for the Humanities who are funding the project in 2018.
We are also participating in a collective impact conversation on the topic of Community Resilience hosted by Stop Child Abuse Now (SCAN). We are thankful for their leadership and look forward to finding our place in this effort.
We are rooting all of these institutional-level conversations in our experience supporting efforts in the Brookland Park community. We are incredibly thankful that The Community Foundation provided funding in the form of a demonstration grant focused on Brookland Park. This demo grant will serve as a model for future collaborative community development projects and support of resident leaders across greater Richmond.

Work with educators and academically focused organizations to strengthen educational and civic outcomes by connecting existing neighborhood organizing efforts to school strengthening efforts. While this is a new focus area for Embrace, youth development has been one of the top concerns in every neighborhood we have worked in. We have seen through our young leaders projects how amazing Richmond youth are and we aim to help them thrive by engaging them in meaningful ways in their communities. Our first step will be to join in the conversations that are already being coordinated by a number of other organizations across the city. This will provide us with new perspectives and a new network for engaging youth in community organizing.
As with all our prior efforts, our primary goal is to grow the number of residents who are shaping their communities. We believe ordinary citizens can do extraordinary things when we stand united!