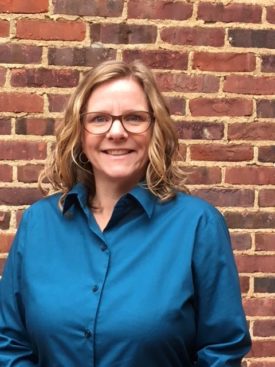 Wendy McCaig, Executive Director
Wendy McCaig is the founder and Executive Director of Embrace Richmond and the author of "From the Sanctuary to the Streets" (CASCADE books 2010).  Mrs. McCaig holds a BBA in Accounting from Texas A&M University and started her professional career as a CPA working as an auditor for Ernst and Young.  Upon moving to Richmond in 2002, Mrs. McCaig obtained a Master's degree in Divinity from Baptist Theological Seminary at Richmond. Mrs. McCaig was trained and certified as a coach/trainer in Asset Based Community Development by Communities First Association.  She has spent the past ten years working in Richmond's inner city doing Asset-Based Community Development.   As a certified coach and a trainer in ABCD, Wendy has gained experience working a variety of neighborhoods with a diverse group of partners including congregations, non-profits and governmental agencies. Under her leadership Embrace Richmond has helped to launch more than 40 Citizen-Driven Community Development projects over the past 10 years.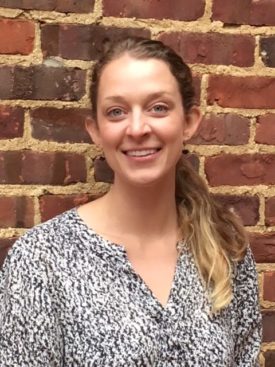 Heather Lyne, Operations Manager
Heather Lyne joined the Embrace Richmond team in late 2017. Ms. Lyne holds a M.A. in Public Affairs and a Certificate in Nonprofit Management from Virginia Tech. She specialized in community change studies with a focus on nonprofit organizational theory, entrepreneurship, public spaces, the arts and culture. Heather served as an International Programs Coordinator for the College of Engineering's Global Engagement while at Virginia Tech. This involved mentoring students, arranging travel itineraries, and promoting international education. This summer, Heather created a community engagement survey in collaboration with VT Engage and the City of Roanoke about public art and the Roanoke River Greenway. The survey prioritizes the voices of residents and neighborhood organizations which primed her for her new role at Embrace. Prior to graduate school, Heather planned large and small music and art festivals for several organizations in Telluride, Colorado. Her alma mater is the University of Georgia where she earned her B.A. in Cultural Anthropology. Although Heather loves to travel, she was born and raised in Virginia. She enjoys dynamic work and looks forward to supporting Embrace Richmond's mission through grant writing and management, program administration, partner development and communications.
Leroy Jefferson, Historic Brookland Park Collective Project Leader
Leroy Jefferson joined the Embrace Richmond team as a resident-leader in the spring of 2016.  In his role as the Historic Brookland Park Collective Project Leader, Leroy is providing coaching and support to neighborhood leaders and congregational partners across Metro Richmond.  Leroy spent more than than 30 years working in the business sector as a bio-chemical researcher, a quality control manager and a business owner.  Leroy is also an ordained deacon and licensed minister with more than 30 years experience working in the local church and as the director of his own ministry.  Leroy and his lovely wife of more than 25 years, Angela have two adult children and live in Leroy's childhood home in the North Central neighborhood in Richmond.
Kevin Starlings, Brookland Park Young Leaders Project Leader
Kevin Starlings joined Embrace Richmond in September of 2017 as a resident-leader and heads up the Brookland Park Young Leaders Project. Kevin works to provide youth year-round opportunities to engage and lead change efforts in their community. In this role Kevin is responsible for designing and developing programs that promote citizen empowerment and concentrate on adolescent and young adult stages of social and psychological development. Kevin also believes in focusing on fixing broken social systems, bringing about meaningful changes to peoples' lives, and empowering vulnerable or oppressed populations.
As a father, business owner, music educator and community organizer, Kevin has become known for his commitment to social issues, dedication to the children and adults within the community, fair-minded leadership, and determination to get results. Kevin is the President/CEO of Jeremiah Entertainment, a local family entertainment/amusement company. Kevin has been a resident of Richmond for over 30 years and as a community organizer he is devoted to restoring democracy at the grassroots level and energizing citizens to become more active in their communities.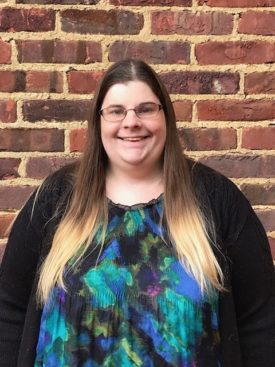 Kristen McCaig, Administrative Assistant
Kristen McCaig joined the Embrace Richmond team in 2015 initially helping out with bookkeeping and other administrative duties.  Since that time, Kristen has used her technology skills to help build our outcomes tracking system.  As important as these behind the scenes functions are, Kristen's most enduring contribution is her use of animation technology and videography.  Kristen designed, developed and edited all of the video's that Embrace has produced since 2015.  These videos are used in the training of institutional partners, neighborhood leaders and young leaders.  They have inspired countless individuals across the globe to be the change they want to see in the world.  Kristen is currently pursuing an associate's degree in Business Administration from Reynolds Community College and will be transferring to VCU in the fall of 2018 to pursue her a bachelors in Accounting.